The latest from the federal NDP's leadership campaign...
- I'll start by specifically pointing out
NDPLeaderVote
as an excellent resource for news as it develops. Because it's largely tracking what's happening in the media and on candidates' announcements, I won't be using these links posts to do the same to the same extent for the duration of the campaign.
- The big news is obviously Jagmeet Singh's
public announcement
that he's joining the race - with a launch that included what seems to be the largest show of support for any candidate so far. And the media also seems to be paying more attention to Singh than to the other candidates on their own, with
Duncan Cameron
,
Chantal Hebert
,
Martin Regg Cohn
,
Adam Radwanski
and
Evan Solomon
among the prominent commentators dedicating columns to his announcement and its impact on the federal political scene.
- Probit has
released
what appear to be the first significant poll results of the campaign. They likely miss the impact of Singh's arrival, but show a very strong start for Niki Ashton in comparison to both her fellow MPs and her results from the last campaign, as well as another indication that Peter Julian's strong organization isn't yet translating into the support he'll need: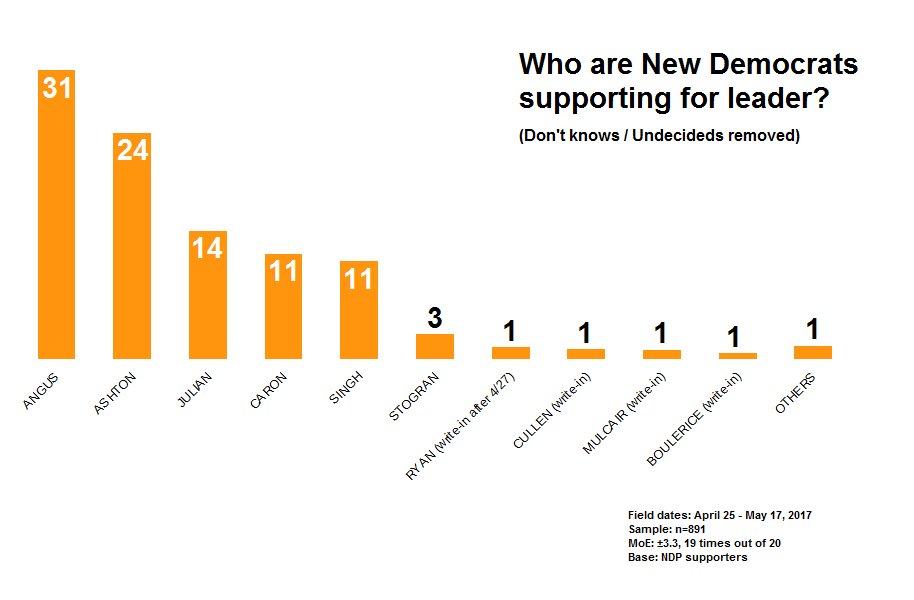 - And this despite Ashton's early-campaign propensity for drawing loud criticism for what should be absolute non-issues in the leadership race - following the previous
brouhaha
over quoting a Beyonce lyrics with a new complaint about her
appearing
in the same photo as a sign.
- Finally, the NDP has slightly
tweaked
its debate schedule, including by adding one in Victoria in August.